Accessibility Guidelines: CC/ANSI A117.1 defines adaptability as the capability of certain elements to be altered or added so as to accommodate the needs of persons with or without disabilities, or to accommodate the needs of persons with different types or degrees of disabilities. Some codes and civil rights laws require provisions in certain residential bathrooms for adaptable features. All essential considerations for accessible bathroom design.
For single family custom homes or remodeling projects, bathroom designs should be specially tailored to the individual homeowners. If a master bathroom is planned for a wheelchair user, for example, the design should reflect that person's individual capabilities and preferences.
Note that the Americans with Disabilities Act/Architectural Barriers Act (ADA/ABA) Accessibility Guidelines 2004 are not typically applied to private residential facilities because the previously issued Fair Housing Amendments Act (FHAA) standards already apply. However, bathrooms located in "transient lodging" facilities (e.g., hotels) or public institutional facilities (e.g., hospitals) may be required to meet both the ADA/ABA Accessibility Guidelines and the FHAA standards.
With all these standards in effect, it is imperative to verify current local, state, and national requirements for residential accessible bathroom and toilet room design. "Aging in Place—Safe and Secure Bathrooms" is one of many AGS Online series that address the needs of an aging population and reflect the current standard of care in building design.
PLANNING FOR BATHROOM ADAPTABILITY
According to an article on eastersealstech.com, there are five big questions to ask when it comes to accessible bathroom design:
What bathroom activities require a user to need assistance?
Are there medical supplies necessary and where do they need to be placed?
Is a tub or shower preferred?
What activities does a user do independently where grab bars should be placed?
Will users condition deteriorate over time and what will users needs be in the future?
The article also lists high-priority focus areas: shower and tub, bathroom sink and vanity, toilet, lighting, and general bathroom access and safety.
ACCESSIBLE BATHROOM DESIGN
For such a relatively small space, bathrooms have many different accessible-design aspects that must be considered beyond the obvious issues of entry and function . These include doors, floors, counters, and storage areas.
Doors
Many experienced specialists on aging advise that bathroom doors be hinged to open out toward the hall, rather than into the bathroom. If anyone should fall against the door while using the bathroom, they won't block helpers' access.
Floors
Slick or highly polished marble, ceramic, or porcelain tiles can be very hazardous when wet, and can cause injuries due to a fall. Choose from a wide variety of materials that have a matte, honed, or somewhat textured finish to increase traction. With age, the human body is more sensitive to cool or colder surfaces; for colder climates, radiant floor heating is an easily installed option with many types and styles available.
Counters
The selection of countertop materials is often based on cost and aesthetics, but maintenance of the counter also should be considered. Because aging users with diminished eyesight may not notice that cleaning is needed, counter material that is much more resistant to bacterial growth is worth exploring.
Providing a 36‐in.‐high counter as well as a 30‐in.‐high counter with a bench allows for a variety of users, seated or standing, tall or short. This provision is more important than double sinks, which often reduce necessary counter space.
Storage
Full‐extension drawer glides and pullout drawer storage below counters allow for more accessible storage. Lever handles are more easily operated no matter the users' age or ability.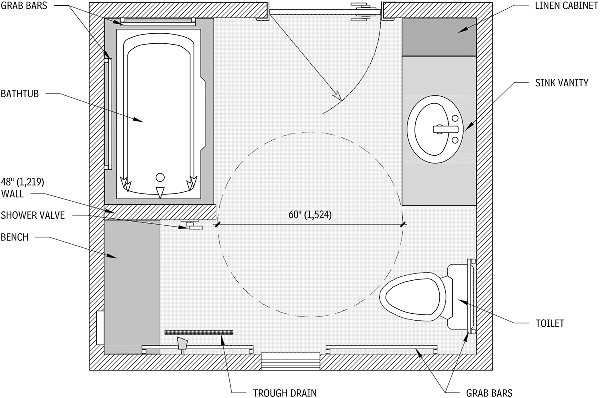 ACCESSIBLE TOILETS AND TOILET SEAT HEIGHTS
Although the selection of toilets and bidets is usually based on personal choice, the seat height of toilets is an major factor. Taller seats (17–18 in.) are usually found in two‐piece sets. While taller seats are preferable for ambulatory people who might have difficulty standing up, they may pose a problem for shorter users.
Grab Bars
Grab bars are critical elements in the lives of many people with mobility issues. They allow for safe toilet transfer, and provide a secure grip when entering and leaving a tub or shower. They can assist someone in bending over to towel off. Grab bars also can assist nondisabled users by preventing accidental falls.
Grab bars come in five types or styles, some with higher aesthetic appeal—especially important to avoid creating an institutional appearance in a residence:
Standard common style that mounts directly to studs or plywood
Ceiling/wall‐ or floor/wall‐mounted versions
Seat‐mounted bars that attach to the sides of the toilet; these do not have sufficient stability to meet accessibility codes
Portable bars that screw and clamp to the sides of a tub; these may not meet accessibility codes
Swing‐away support bars that pivot up and away; these may not meet accessibility codes
A standard grab bar must be firmly and securely installed directly into the studs or into walls that have been reinforced with wood framing or faced with a minimum ¾‐inch sheet of plywood. Plywood is preferred as a support material as it allows for the placement of most grab bars along a wall and in a number of locations based on users' preference.
SHOWERS IN ACCESSIBLE BATHROOM DESIGN
When existing conditions permit or in new construction, design a shower area with a zero‐clearance entry to provide easy entrance and exit. Plan for the water controls to be located near the entrance rather than under the showerhead. Include a handheld showerhead, grab bar, and a seat for an extra measure of safety, comfort, and security. A post on the interior design and home improvement site Houzz suggests some creative solutions, such as leaving out a shower door in warmer climates, a wall-hung toilet, and a floor with a one-way slope.