The following is an example of the type of great content Architectural Graphic Standards Online subscribers can access any time they wish!
A subscription to the cloud-based AGS Online makes it easy and cost-effective to access Architectural Graphic Standards content anytime, anywhere.
Search thousands of graphic details, texts and tables from your computer, tablet or mobile device
Download, ready-to-edit CAD files (dwg, dgn, dxf formats) for immediate use in design and presentation software
Access to the latest content updates and industry standards as they become available
The sample below represents just a fraction of the thousands of details available now.
Not only can you view or download details, but with a full subscription, you'll also be able to zoom, pan, tap to download, and both browse and search easily and intuitively on both desktop and mobile devices.
Included below is a sample of the Universal and Accessible Design  section.
Feel free to download the associated CAD files (keeping in mind our terms of use), and don't forget to sign up for email alerts about Architectural Graphic Standards Online.
DETERMINING THE APPROPRIATE STANDARD
Architects practicing in the United States understandably may be overwhelmed by the long regulatory history of accessible design and the complex way in which it is implemented. The following table can help designers determine the appropriate accessible design standard to use for any given project. The first step is to determine which laws and regulations apply. Project accessibility requirements may be determined by answering the following questions:
What type of building or structure will be built?
Who owns the facility?
Will some construction funds come from a government agency?
What other government funding will the project receive?
Who are the intended users of a space or component?
The table lists the applicable standards for many types of projects.
APPLICABLE ACCESSIBILITY STANDARDS FOR SAMPLE PROJECTS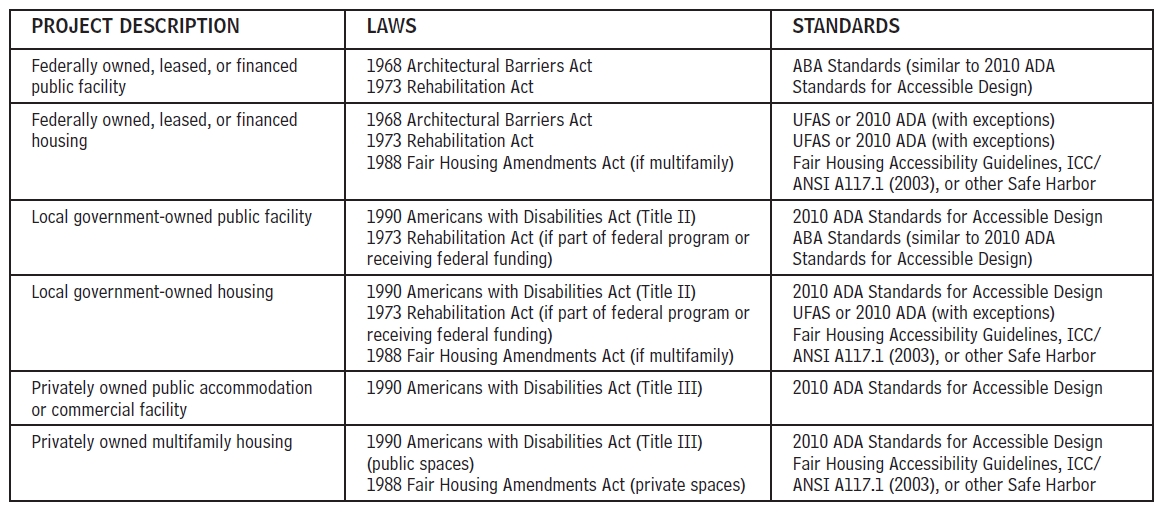 HOW TO USE THIS SECTION
The drawings and illustrations presented herein combine the requirements for several standards and regulations and include best practices as well. A star identifies dimensions in illustrations that are best practices, typically exceeding the minimum dimensions. Illustrations without a star have no research evidence to support one dimension over another. The illustrations also note new requirements that have been approved for inclusion in the upcoming 2016 edition of ICC/ANSI A117.1, as of the time of this writing, although not finalized prior to publication of this book. Sometimes, the ICC/ANSI A117.1 (2016) dimension is also a best practice because it was adopted based on the latest research. Some illustrations may have multiple dimensions: (1) best practice (identified by star), (2) ICC/ANSI A117.1 (2009) requirements (no label), and (3) requirements of other standards or future standards (labeled accordingly). As with any resource book, it is important to realize that the illustrations depict general compliance requirements under typical conditions. Unless otherwise specified, the dimensional requirements in this section represent minimum and maximum requirements as specified by ICC/ANSI A117.1 (2009). Consult with applicable codes and standards for more detailed specifications.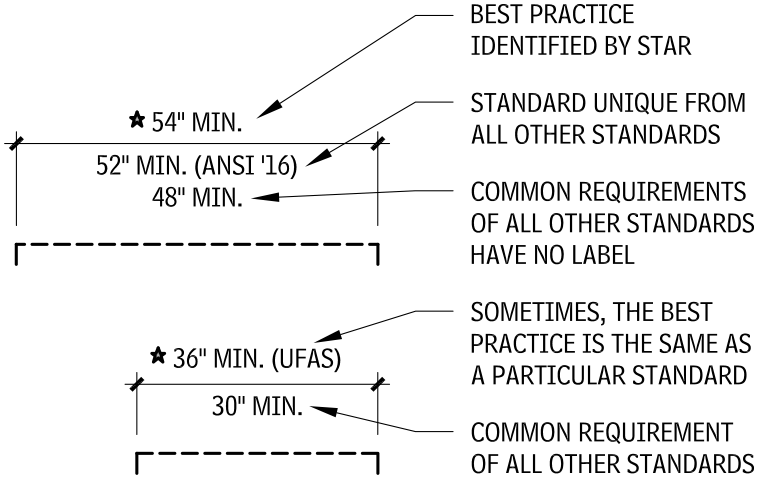 BUILDING BLOCKS
"Building blocks" provide the design foundation for accessibility and universal design. Designing access for wheeled mobility users provides generous space clearances for all building users and makes the built environment feel spacious and comfortable for all people. Critical components of the building blocks include floor surfaces, maneuvering and turning space, knee and toe clearance, and functional reach distances. The building blocks are a set of rules that apply in similar ways across a variety of spaces and situations. Learning the building blocks is a critical step for all designers and architects toward creating inclusive and accessible spaces.
MANEUVERING CLEARANCES
Floor surfaces of a clear floor space must have a slope no steeper than 1:48. One full, unobstructed side of the clear floor space must adjoin or overlap an accessible route or adjoin another clear floor space.
KNEE AND TOE CLEARANCES
Designers have the option of using a T-shaped or circular turning space where a turning space is required.
WHEELCHAIR TURNING SPACE
Knee and toe clearance that is included as part of a T-shaped turning space is allowed only at the base of the T, or on one arm of the T. In some configurations, the obstruction of part of the T-shape may make it impossible for a wheelchair user to maneuver to the desired loca­tion. ICC/ANSI A117.1 (2016) will require that knee and toe clearance included as part of a circular turning space overlap only 10 in. of the circular turning space. Floor surfaces of a turning space must have a slope that is no steeper than 1:48 and has no level changes.
REACH RANGES
Existing elements may be located 54 in. maximum above the floor or ground. The 48-in. reach limit does not apply to tactile signs. Tactile signs must be installed so the tactile characters are between 48 and 60 in. above the floor. Below this height, tactile characters are difficult to read by standing people, as the hand must be bent awkwardly or turned over (similar to reading upside down) to read the message.
CHILDREN'S REACH RANGES FROM A WHEELCHAIR (IN.)